Acer RS ​​Porsche Design Book in Turkey | NTV
The ultimate laptop that combines Porsche Design's functional design philosophy and engineering intelligence with Acer's technological innovations and deep knowledge of the global computing industry. Porsche Design Acer Book RSTechnology was presented to the lovers in Turkey.
The Porsche Design Acer Book RS, with an all-metal compact chassis, is powered by the 11th Gen Intel® Core ™ i7 processor and NVIDIA® GeForce® MX350 GPU components. The laptop weighs only 1.2 kg. The upper part of the case features carbon fiber lining, a strong yet lightweight and high-performance material, reflecting decades of experience in motorsport.
Intel® Evo™ platform-certified1 Porsche Design Acer Book RS excels in instant wake-up, real battery life and fast charging, and offers the ideal solution for all the tasks that can be expected from a laptop.
ICONIC DESIGN
The Porsche Design Acer Book RS, which is produced by adhering to the design philosophy of Porsche Design, which aims to offer functionality in the most appropriate way, represents a high-level computing understanding in which each feature is developed for a purpose. The 3k carbon fiber part contrasts with the diamond-cut CNC machined case of the device. While this contrast adds an assertive character to the laptop, it also increases portability. The one-piece hinge that connects the bottom and top surfaces of the laptop, which is only 15.99 mm thin, lifts the keyboard slightly when the device is turned on. Thus, a more ergonomic writing experience is offered and better cooling is achieved. Backlit keys offer comfortable typing even in dark environments. The sensitive touchpad made of glass offers multi-motion support to perform multiple tasks at the same time more comfortably.
The device also comes with specially designed accessories. The ideal companion for Porsche Design Acer Book RS, the segmented and multifunctional Porsche Design Acer Travelpack RS (mousepad, mouse, carrying compartment and laptop dock) looks very stylish and enriches the user experience. The carrying compartment is made of durable ECCO® PALERMO XA leather that feels pleasant to the touch and shines slightly. This waterproof part protects the laptop from travel scratches and wear. For efficiency, the removable cover of the laptop dock can also be used as a mousepad. Complementing the travel package, the Bluetooth and wireless Porsche Design Acer Mouse RS has a carbon fiber coating on the left key to reflect Porsche Design's unique design.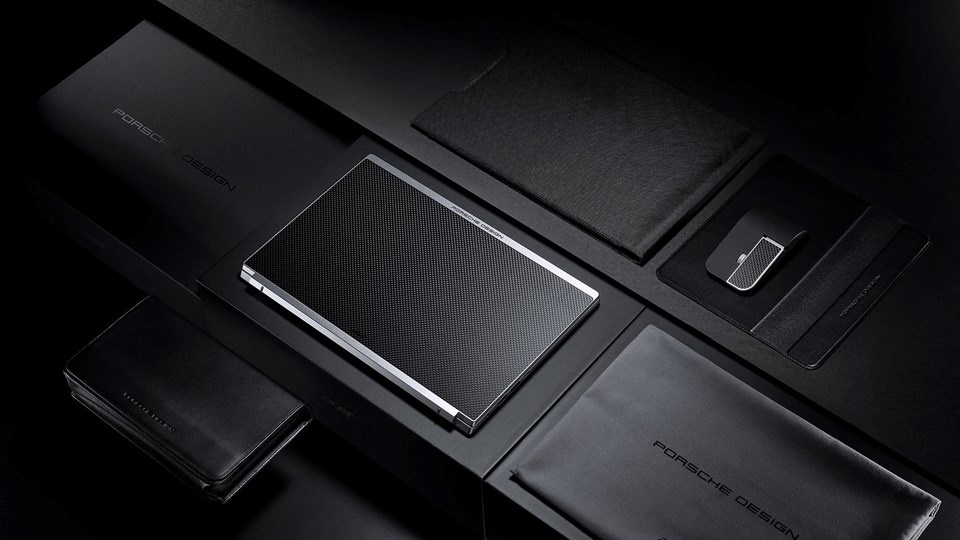 SUPERIOR PERFORMANCE
Porsche Design Acer Book RSBeneath the eye-catching design is the combination of an 11th Gen Intel® Core ™ i7 processor, NVIDIA® GeForce® MX350 GPU and 16GB memory for superior performance. The laptop has 1 TB SSD storage that will be sufficient for all storage needs. The 14-inch FHD IPS3 touch screen, coated with antimicrobial2 Corning® Gorilla® Glass, covers 100 percent of the sRGB color gamut. The ultra-thin bezels provide an impressive 90 percent screen-to-body ratio.
Keeping cool with its dual copper heat pipes, the device has an impressive 17 hours of battery life4. The device also offers 4 hours of use5 with 30 minutes of quick charge. Secure login using fingerprint with dual band Intel® Wi-Fi 6 (Gig +), wide port options (USB-C ™, Thunderbolt ™ 4 and USB3.2 Gen 2) and Windows Hello, including Modern Standby and Voice Wake smart features also enrich the user experience.
Acer Turkey Marketing Director Sema Yearz stated that Porsche Design Acer Book RS was introduced about 3 months ago at our next @ acer press conference, where new products and technologies were introduced, and said, "Porsche Design and Acer have signed an important cooperation and brought together high-level design and technology in this product. 28 by January Porsche design Acer Booker RS, designer accessories, mouse, mouse pad, was sold in bags and cases with Turkey, "he said.
Yildiz explained: "We can describe the product as thin, light and strong. It is almost 1.5 cm thin, weighs 1.2 kg and has an all-metal case. Thanks to its thin frames, the product has a screen-to-body ratio of 90 percent, 14-inch FHD. With its touch screen, 340 nit brightness and 100 percent sRGB color gamut, it offers a vivid and impressive color accuracy.17-hour battery life is more than enough for all day use, while its fast charging feature provides 4 hours of use with 30 minutes of charging time when needed.11th Generation Intel The product, which has a Core i7 processor and NVIDIA GeForce MX350 graphics card, has 16 GB of RAM and 1 TB SSD. It also has the latest connectivity options such as Wi-Fi 6, Bluetooth 5.1 and Thunderbolt ™ 4.
Your product Porsche Design Be it added that it was in an entirely different category for the Stars, "but in Turkey we have ever had to make an assessment based on thin laptops we sell, the first product with 16 GB of RAM in this category. RAM is important because and applications that require high performance computer It enables users who use the program to work without any problems. It is also the first product with Intel Evo platform to come with an 11th Generation Intel i7 processor, and our highest performance slim notebook with an external graphics card and high capacity SSD. Another product with all these features among our models in this segment. The other segment is gaming computers. These computers are the first to come to mind when it comes to high performance, but this is not a product to be positioned in that category either. Yes, it offers high performance but has different features far beyond gaming computers. the one is framed as thin as none i have a product. In summary, Porsche Design Acer Book RS is a product that can be easily rendered, produce video content and play many games in the ultra-thin, light notebook category. "
PRICE AND AVAILABILITY
Porsche Design Acer Book RS, Porsche Design Acer It was offered for sale together with Travelpack RS (mousepad, mouse, carrying compartment and laptop slot) at Teknosa.com.tr and Teknosa stores at a price of 19.999 TL. It is possible to see the device in Istanbul Acıbadem Akasya, Nişantaşı Citys and İstinye Park Exxtra stores.
Specifications, prices and availability may vary by region.
For more information on availability, product features and prices in specific markets, please contact the nearest Acer office at www.acer.com.